Seattle Sounders FC 2019
Project Info
The 2019 season marks 10 years in mls for the Seattle Sounders. For this monumental year the club introduced Zulily as their new jersey sponsor and a brand new away kit. Amidst all of these new and exciting changes the club was in need of a way to retain continuity while building excitement in their branding efforts. The Sounders challenged Column to develop a brand system for their internal team to use as a versatile tool kit for 2019's year-long campaign.
The brand system we created was truly comprehensive as it had to perform three main functions. First, it needed to stay fresh over the course of the season. We achieved this by developing a wide range of assets tailored to emphasize different aspects of the Sounders experience, from the game to fandom. Second, this system had to be simple to execute. With the internal team sometimes only having 15 minutes to create in some instances, they needed an easy to access toolbox and creative framework to efficiently execute on design requests. Third and almost most important, it had to exude the spirit of the Sounders. This was done through the development of graphics that inject the energy found on and off the pitch and pairing them with elements that speak to the focus, precision and dedication of the players.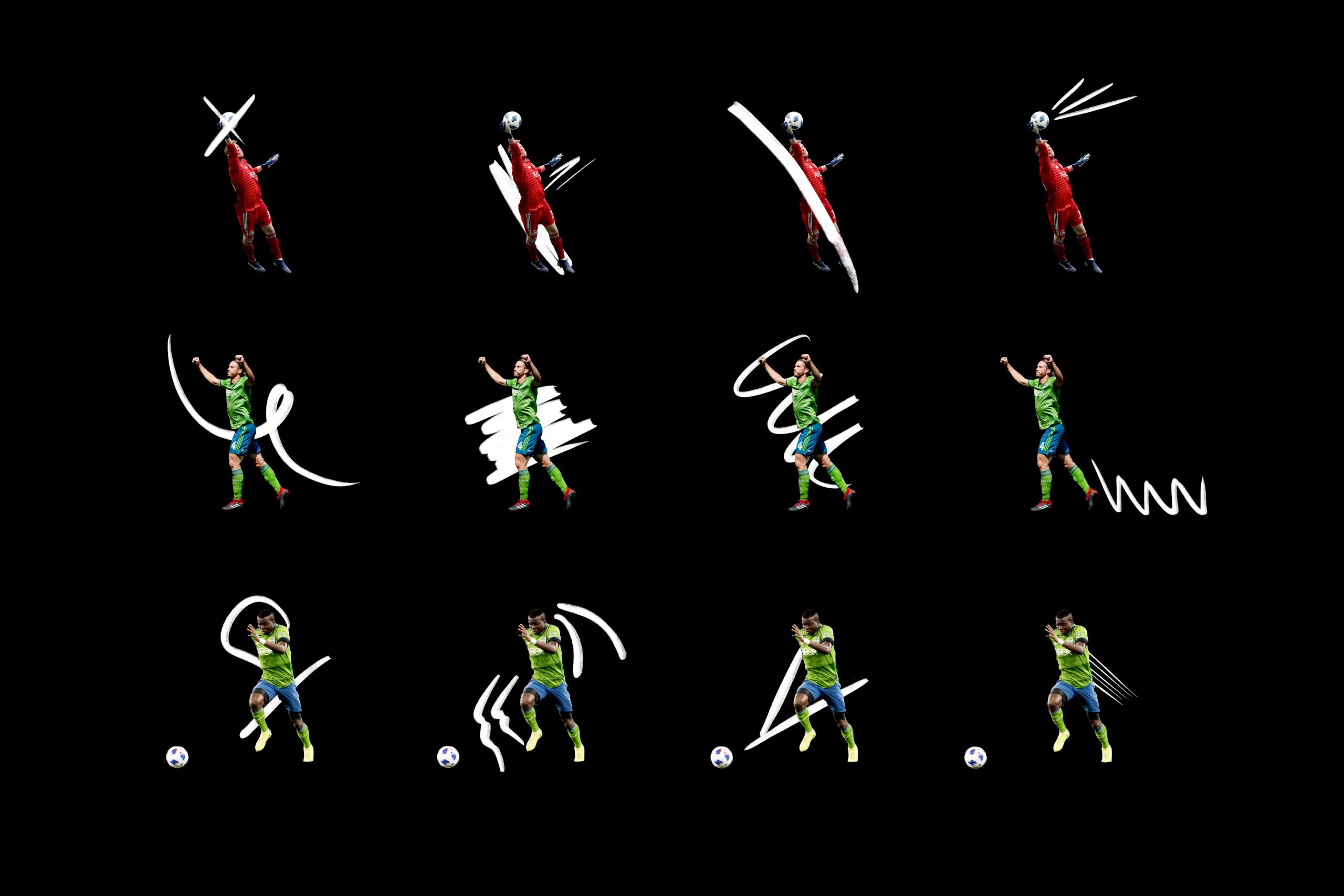 Hand-done Assets
The hand-done elements were created to provide energy—evoking the emotion of a Sounders matchday atmosphere. They help to emphasize the action of a player or infuse a Sounders mantra with emotion.
Technical Assets
The technical elements were created to emphasize the flow of the game and the focus of the players. Additionally, in these graphics there is a subtle nod to the orca via emanating sound/sonar waves. Being that the orca was the original mascot for the Sounders and the marking of a historical year, we thought it only natural to incorporate this idea into the system.
Style Guide
We further assisted the club by creating a variety of executions of the brand system along with a very robust style guide accompanied by hundreds of hand made graphic assets, Lightroom Presets and design frameworks.